Malayalam Kusruthi Chodyangal, Malayalam Kadamkathakal, with Answers
Latest Malayalam Kusruthi Chodyangal – Find short and funny questions and answers, chali chodyangal in malayalam for school students, TV anchors, events etc.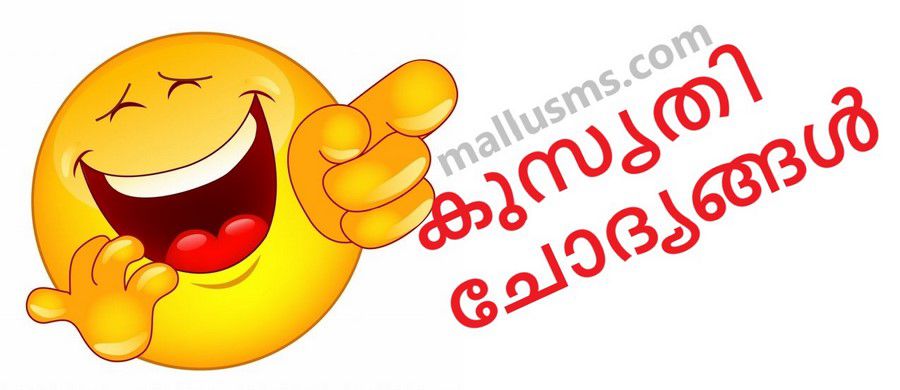 [1]"Odd" Numberum "EVEN" Numberum engine thirichariyam ?
Ans :
Ella Numberum eduthu Tharayil eriyoo… "Odd" anenkil pottum. !!
---
[2] Pakal Muzhuvan Thammil Thallukayum Ratriyil Ketti pidichu kidakkukayum Cheyyunnathu aaranu ?
Ans : Kanpeelikal (Eyelid)
---
[3] Penkuttikal Chirikkumpol Vaya (Mouth) Pothunnathu Enthu kondu ?
Ans :
Kai Kondu!!
---
[4] What is the difference between Chappathi and Chikungunya?
Ans: Chapathi nammal parathum…. Chikungunya kothuku parathum !!
---
[5] 100 il Ninnum Etra Pravasyam 1 Kurakkam ?
Ans : "Oru pravasyam" Matram (Karanam, oru pravasyam 1 kurachu kazhinjaal athu 99 aakum, pinne 100 il ninnu kurakkan pattmo..")
---
Malayalam Kadamkathakal- Funny Questions
[6] Oru marathinte "Perum" … Aa marathile Phalathinte perum ….Athu Kazhikkumpol ulla Ruchiyude perum Onnanu.. Ethanu Aa maram ?
Ans : Puli
Also Read : Malayalam funny questions-Malayalam kusruthi questions
---
[7] Kusruthi Chodyam:- Enthinu Vannu ennu artham varunna Keralathile Sthalam Ethanu?
Ans : Vaikom (Why Come ?)
---
[8] Hindikkar pocketilum Malayalikal Aduppilum Vekkunna Sadhanam Ethu ?
Ans : Kalam – Pena (Kalam = Pen)